There are a couple of edits to follow the CDC guidelines for the maximum safety and comfort for all participants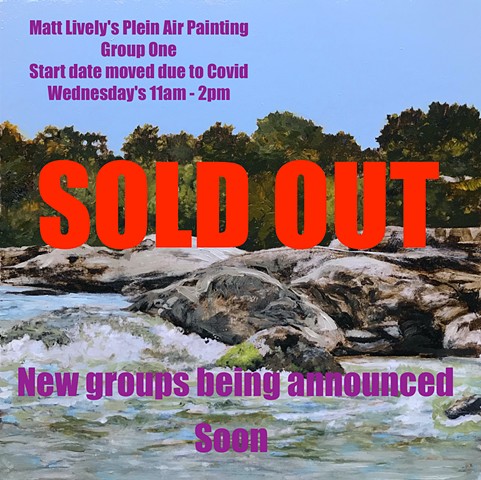 Plein Air Painting with Matt Lively (Group One)
Registration ended. New groups starting soon
2020
$240
MATT LIVELY'S PLEIN AIR PAINTING
Group One
We are a group of folks painting outside. I am one of the folks. I will be responsible for organizing the outings and will be available for any technical questions the participants may have.
In all meetings, each participant is responsible for their own food, safety and well-being. This plein air painting group is in no way affiliated with the Studio School but I have their blessing.
The group will be limited to 9 (this is a new edit following the CDC guidelines about the number of people in a group) participants each session ( this is to make sure that I can help everyone sufficiently with painting - more groups will be added if there is a demand).
Each participant commitment is non-transferable for Group 1. (Again, more groups will be added if need be).
The goal of this group is to get better at painting and create a reason to go and do it. Since I love to paint and teach, I invite you to join me outside so that we can get better at painting.
In order to make this project sustainable, ongoing, and able to grow to include more interesting locations, I will be requiring a registration fee from each participant. The registration fee includes: organization, instruction when needed, critique when asked, locations, communication (email and text), water, and pop up shows including our best work at different locations after the session.
8 Sessions would be $240 total registration fee or if paid in advance - $200 registration fee.
Early registration begins March 20th, 7am via my website
March 27th the price is $240
The registration fee includes all and serves as a "credit" towards any of my work made during our outings.
Group 1 will meet Wednesday's from 11am - 2pm starting ( dates could change according to the CDC guidelines ) hopeful new dates May 13th and continuing until July 1st. We will meet 8 times.
Each painter will provide for their own painting needs, creature comforts and snacks if needed. I will provide drinking water.
Locations and Dates: Locations subject to change but all will be notified via email in a timely manner before the session starts.
Securing INSIDE Rain Location possibilities has been incredibly challenging to confirm because of liability issues of the property owners. I will continue to try to secure these arrangements.
If a participant is a supplier of an interior rain date location, his/her fee for that day will be refunded.
Suggestion: what you paint that day is what you paint. Resist addressing today's painting again until after our last meeting. Suffering this suggestion will pay off.